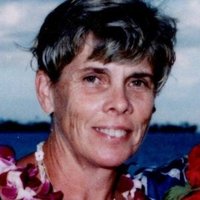 Paula H. Critelli
Paula H. Critelli of New Hampton, NY, a retired owner of Joe's Greenhouses, died peacefully at Schervier Pavilion (The Spa as Paula called it) in Warwick on Friday, December 8, 2017, after a five year battle with AL amyloidosis. She was 71.
The daughter of the late Howard Lattimer & Alice Phillips Lattimer, she was born on January 29, 1946 in Middletown, NY.
She was a member of Minisink Valley High School Class of 1963.
Paula lovingly baked cookies, brownies with liqueur, and cakes for those she loved. She was a very talented artist who loved to paint, draw and sew and could make anything into a masterpiece with a few moments of thought and her hands, with her faithful black Labradors at her side. Also she was very well known for her green thumb and her flower gardens. Every November, Paula and Joe would travel to Maui, where Paula would sketch mermaids and scenery while at the beach. Upon returning home, Paula would tirelessly prepare for her favorite Christmas Season, baking and sewing dolls for her grandchildren. She was a beloved wife, mother, sister, daughter, grandmother and friend. Her wit and dry sense of humor will always be remembered.
She is survived by her son, Gary R. Knibbs Jr. & Jessica Ferrari; daughter, Brenda Knibbs Penaluna and husband Rich; grandchildren, Samantha & Brianna Knibbs; Richard & Lydia Penaluna; Sister, Joan June; and several nieces, nephews & cousins.
She was predeceased by her husband Joseph Critelli, who just passed away September 6, 2017.
Memorial visitation will be held, for both her and her husband Joe, on Thursday, December 14th from 2-4 & 7-9pm at T.S. Purta Funeral Home, 22 Glenmere Avenue, Florida, NY 10921.
Memorial services, for both Joe and Paula, will be held 10AM Friday, December 15th at the funeral home.
Burial will be in St. Joseph Cemetery along with her husband Joe.
The family would like to thank the staff at Schervier Pavilion, Dr. Suzanne Lentzsch and Dr. Melana Yuzefpolskaya of New York Presbyterian Hospital and Dr. Jeffrey Steward of Middletown, NY.
In lieu of flowers, donations can be made to the Goshen Humane Society, PO Box 37, Goshen, NY 10924 or to Hospice of Orange & Sullivan Counties, Inc., 800 Stony Brook Court, Newburgh, NY 12550.