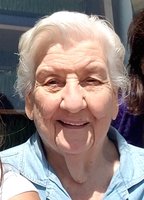 Theresa Elizabeth Pawlikowski
Theresa Elizabeth Pawlikowski of Point Pleasant, NJ, a retired Registered Nurse from Newton Hospital, Newton, NJ, entered into rest on Friday, January 19, 2018 in Warwick, NY. She was 86.
The daughter of the late Andrew Bogdanski & Stephania Gurda Bogdanski, she was born on June 15, 1931 in Pine Island, NY.
She was a member of the Third Order of St. Francis and was a longtime member of the choir at St. Martha's in Point Pleasant.
She is survived by her daughter, Mary Bashtarz; daughter, Anne Martin & husband Joe; daughter, Celia Morgiewicz & husband Gary; daughter, Ellen Quinn & husband Robert; 2 sons-in-law, Mark Bros & George Dragan; 18 grandchildren and numerous nieces and nephews.
She was predeceased by her husband, Walter J. Pawlikowski; 2 daughters, Nancy Bros & Susan Dragan; son-in-law, Lad Bashtarz; 5 sisters, Antoinette O'Keefe, Anne Brozdowski, Stella Mileski, Frances Wiecek & Rose Nichols Morgenthaler; 3 brothers, Andrew J. Bogdanski Jr., Stanley Bogdanski and Bernard J. Bogdanski.
Visitation will be held on Tuesday, January 23rd from 5-8pm at T.S. Purta Funeral Home, 690 Co. Rt# 1, Pine Island, NY 10969.
A funeral mass will be held 10:15AM on Wednesday, January 24th at St. Stephen the First Martyr Church, 75 Sanfordville Road, Warwick, NY 10990.
Burial will be in St. Stanislaus Cemetery, Pine Island, NY.
Memorial contributions may be made to the Church of Saint Martha, 3800 Herbertsville Road, Point Pleasant, NJ 08742.