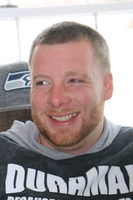 Michael John VanBenschoten
Michael John VanBenschoten of Goshen, NY, passed away suddenly on Friday, January 26, 2018. He was 30. Mike loved spending every possible second with his children and family. He also enjoyed nice cars, going to car shows, and cruising his bright orange Camaro thru Harriman State Park. He also loved sports such as Basketball & Football, played golf, and even coached Carl's basketball team.
The son of Patricia Tomaszewski Price & John VanBenschoten , he was born on March 31, 1987 in Middletown, NY.
Survivors include his parents, Patricia Price & Scott Jansen; girlfriend, Arianna Schares & her son, Carl; son, Michael VanBenschoten Jr.; daughter, Makenzee VanBenschoten; sister, Kristal Ward and her husband Mark along with their children, Melanie & Bailey; sister, Katelyn VanBenschoten & her son Shawn; maternal grandmother, Mary Tomaszewski; step brothers, Shane & Evan Jansen; along with several aunts, uncles, cousins and very close friends.
Visitation will be held on Wednesday, January 31st from 4-8pm at T.S. Purta Funeral Home, 22 Glenmere Avenue, NY 10921.
Funeral mass will be held 11AM Thursday, February 1st at St. Joseph Church, 20 Glenmere Avenue, Florida, NY 10921.
Cremation will be held privately.
Memorial contributions may be made to Patricia Price to be put in Michael and Makenzee's 529 college savings funds.