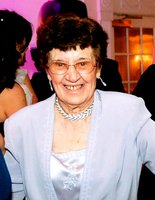 Theresa Bogdanski
Theresa Shuback Bogdanski of Pine Island, a lifelong resident of the area, died peacefully on February 2, 2018. She was at her home on Pulaski Highway surrounded by her family.
The daughter of the late Joseph Shuback and Rose Rutkowski Shuback, she was born on October 11, 1924 in Florida, NY.
She was the widow of Paul Bogdanski. They were married for over 50 years.
She is survived by her eight children and their spouses; Francine Daniels, Flo and Mike Boucher, Doris and Rich Sharp, Rosie and Elliott Volaski, Carolyn Bogdanski, Paul Bogdanski, Teresa and Mike Chirichella, and Marilyn and Eric Malstrom. Her eleven grandchildren; Lindsay and Sean Jacobson, Jeff and Sierra Volaski, Rich Sharp, Christopher Sharp, Jessica and Zach Oliva, Brittani Chirichella, Nicole Chirichella, Brian and Stephanie Bogdanski, Aaron Bogdanski, Megan Malstrom and Emily Malstrom. She was their much loved Babci. She was Big Babci to her three great grandchildren; Emerson Volaski, Hudson Volaski and Cora Jacobson. She is also survived by her sister, Betty (Pinky) Mikulski; brothers, Mickey (Helen) Shuback and George (Anne) Shuback. Her brother-in-law, Henry (Joan) Bogdanski and sister-in-law, Irene Bogdanski. Many beloved nieces and nephews; especially Doris Mikulski Tomczak.
She is predeceased by her sisters; Anna Knapp, Caroline Fremgen and Violet Shuback; her brothers; Albert, Leo, Joseph, Louis, Edmund, Raymond and Bunny Shuback; sisters-in-law, Mary Kingston, Frances Mudrick, Cora and Henrietta Bogdanski; brothers-in-law, Peter, Julian and Lucian Bogdanski.
Theresa was an active member of the St. Stanislaus Roman Catholic Church in Pine Island, NY. She was true and complete partner with her husband Paul on their onion farm. She loved to laugh and especially to make people laugh. She enjoyed cooking and catered many events. She was a long standing member of the St. Stanislaus Rosary Society and the Ladies Auxiliary of the P.L.A.V. She was the Chamber of Commerce Citizen of the Year in 1993 and Mother of the Year in 1994 and was Elks Mother of the Year 1994.
Visitation will be held on Monday, February 5th from 9-11AM at T.S. Purta Funeral Home, 690 County Rt# 1, Pine Island, NY 10969.
A funeral mass will be held 11AM Monday, February 5th at St. Stanislaus Church, Pine Island, NY.
Burial will be in St. Stanislaus Cemetery, Pine Island, NY.
Those who desire, may make memorial donations in memory of Theresa to the Living Rosary Society of St. Stanislaus Church, attention Doris Tomczak, 14 Glenmere Ave., Florida, NY 10921.