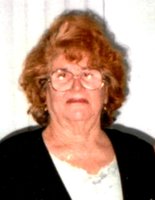 Juana "Juanita" Ruiz
Juana "Juanita" Ruiz of Goshen, NY a devoted mother and loving grandmother, beloved retired onion and vegetable farmer was called home to our Lord and Savior on Friday, February 09, 2018, surrounded by her loving family. She was 90.
She was the daughter of Chicano & Texano parents born on June 24, 1927 in Austin, TX. She was a farm girl at heart and her dad's right hand.
A family statement reads: "We are thankful for her long life, happy personality and the smile on her face. She loved spending time with family planning many gatherings and especially cooking traditional Mexican dishes during the holidays. She also enjoyed traveling to Florida, Texas and Mexico with family and sharing family memories. She was a loving aunt to many nieces and nephews. She will be missed forever by her family and friends. May she rest in peace"
Survivors include her daughter, Emma & husband Ismael Maisonet of Goshen, NY; son, Anselmo Davila of Dallas, TX; daughter-in-law, Guadalupe Ayala of Riverview, FL; sister-in-law, Maria Davila of Clewiston, FL; 10 grandchildren, Olga Nellie Gurda & her husband Gerard Edward; Araseli Velazquez; Ernesto Lopez Jr.; Maribel Camacho & her husband Juan; Ismael Maisonet his wife Alejandra; Zenia Morales and her husband Serafin; Armando Ayala Jr.; Reynaldo Ayala; Belinda Ayala and Rosanna Ayala March; 17 great grandchildren; Lisandra Thalia Gurda; Iris Jomaira Velazquez; Edwin Velazquez; Khristy Bautista; Jonathan Bautista; Ernesto Lopez III; Selena Marie Lopez; Aaliyah Raquel Camacho; Jordan Camacho; Sashira Camacho; Maria Dolores Garcia; Cristian Maisonet; Imailey Morales; Liam Serafin Morales; Carlos Aulet, Philomena March and Vincent March; her niece, Bertha Davila Sanchez and her husband Jose "Lone" and Goddaughter, Esther Reyes Rodriguez & her husband Hector.
She was predeceased by her brother, Roberto "Beto" Davila; niece, Sabina "Saby" Davila Villafuerte and her son Armando Ayala.
Visitation will be held on Friday, February 16th from 9:00-11:15AM at T.S. Purta Funeral Home, 22 Glenmere Avenue, Florida, NY 10921.
Funeral mass will be held 12noon Friday, February 16th at St. Stephen the First Martyr Church, 75 Sanfordville Road, Warwick, NY 10990.
As per her wishes, cremation will be held privately.
The family would also like to express their love and admiration for their mother and grandmother. Also special thanks to the wonderful staff at the Valley View for your care and support for Juanita over the past several years.