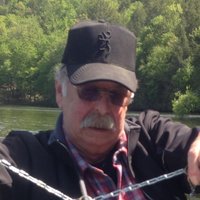 Barry H. Daubert
Barry H. Daubert of Goshen, NY, a 3rd generation truck driver and plant manager for Fierman Produce, entered into rest on Friday, March 2, 2018 at ORMC, Middletown. He was 69.
The son of the late Erwin P.C. Daubert & Dorothy E. Curry Daubert, he was born January 17, 1949 in Goshen, NY.
He was a US Army Vietnam Veteran and was an avid fisherman and hunter.
Survivors include his son, Jeffrey P. Daubert & fiancé Debra Snowberger; son, Travis P. Daubert & fiancé Nina Crain; grandson, Hunter Daubert; stepgrandson, James Padgett; sister, Diane Charles & husband, Lanny.
He was predeceased by his wife Denise Labanowski Daubert.
Memorial visitation will be held Saturday, March 10th from 11am-1:00PM at T.S. Purta Funeral Home, 690 County Route# 1, Pine Island, NY 10969.
Memorial service will be held 1:00 PM at the funeral home.
Memorial contributions may be made to a charity of one's choice.