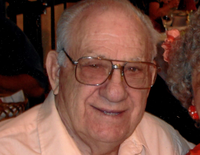 James P. Czubak
James "Jack" Czubak of New Hampton, NY, a retired cabinet maker and carpenter, entered into rest on Monday, March 05, 2018. He was 88.
The son of the late Jacob Shuback & Victoria Jakubczak Shuback, he was born September 5, 1929 in Pine Island, NY.
He loved good food, golf and fishing.
Survivors include his sister, Helen Pajak & husband Victor of Las Vegas, NV; niece, Sandra Piazza; nephew, James Bastek (Rosetta); nephew, Martin Shuback (Robin); niece, Elaine Conklin (Lance); niece Julie Martin (Val); niece, Audrey Smith (Robert); niece, Victoria Mason (Dave); niece, Donna Greene; nephew, Victor Pajak (Mary); niece, Barbara Alarie (Michael).
He was predeceased by the love of his life, Irene Kochis Czubak of 62 years; foster daughter, Connie Thomas; sister, Tekla Bastek; 3 brothers, Arthur, Theodore & Victor Shuback.
Visitation will be held Sunday, March 11th from 3-7pm at T.S. Purta Funeral Home, 690 County Route#1, Pine Island, NY 10969.
Funeral mass will be held 10AM Monday, March 12th at St. Stanislaus Church, Pine Island.
Burial will be in St. Stanislaus Cemetery, Pine Island, NY.