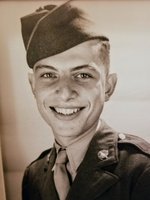 Martin Schwager
In memory of Martin Schwager. Born August 3, 1921 in New York City, he passed away peacefully in his sleep March 30th at the age of 96. Loving husband to Esther Schwager, proud father to Charles (Jan Durgin), Carol (Mark Soss), and Phyllis Schwager, and fortunate grandfather to Caitlin, Michael, Robert, Jesse, Samantha, Connor and Aidan.
He proudly served in the US Army during World War II from 1942-1945 in 76th infantry division, part of General Patton's third army. After returning home and starting a family in the Bronx, he worked in the NY State Supreme Court for 30 years. He was a true renaissance man with interests ranging from literature, poetry, politics, photography, sports and music. He became a fitness enthusiast and developed a love for running and all things healthy. He was a man ahead of his time; he happily participated in household chores and strongly supported civil rights and women's rights.
Services will be held privately.
Donations can be made in his memory to Elant Foundation, 214 Harriman Drive, Goshen, NY 10924.