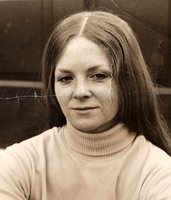 Janet S. Howe
Janet S. Howe of Warwick, NY, died on Monday, October 8, 2018 at the age of 75.
The daughter of the late Hal Smith & Mary Tanner Smith, she was born on February 20, 1943 in Dallas, TX. Her father, "Hubert Castle," was inducted into the Circus Hall of Fame as a wire walker and later owned his own circus. When she was angry at her parents, she ran away from the circus.
Jan studied philosophy as an undergraduate at Southern Methodist University and studied education as a graduate student at UT Austin. She was a 6th grade teacher in Austin and then in Warwick, where she was involved in an alternative parent-run school, the Amity School. Later, she was a craftsperson for many years and then the office manager for Jewelry of Chardavogne. Throughout her life, she followed the teachings of G.I. Gurdjieff and was a member of the Institute for Religious Development – The Chardavoyne Barn in Warwick.
Always active politically, Jan headed up Eugene McCarthy's Austin, TX office for the 1968 Presidential campaign. She served as the Orange County Coordinator for John Hall's 2006 Congressional campaign and has also served as the Warwick Democratic Party Chairperson for the last 6 years.
Jan is remembered for her keen intellect, delicious cooking, goofy sense of humor, and commitment to making the world a better place. She is survived and missed by her husband, Robert Howe; son, Peter Gibson; daughter, Megan Howe; daughter-in-law, Donna Gibson; granddaughter, Sierra Gibson; and 2 grandsons, Alex & Zach Gibson; along with many nieces and nephews. With her entire family, Jan had the joy of celebrating Sierra's wedding this past July.
As per her wishes, cremation will be held privately. A celebration of Jan's life will be held on Friday, 10/19, 2-6pm, at the PLAV Hall, 16 Legion Lane, Pine Island, NY.
In lieu of flowers, donations can be made to the American Civil Liberties Union