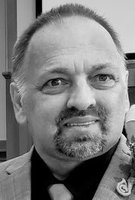 Scott A. Rainato
Scott A. Rainato of Middletown, NY entered into heaven on November 29, 2018. He was 56 years old.
He was born on October 1, 1962 in Hackensack, NJ.
Scott was a CAD designer & Engineer for Fellenzer Engineering, Middletown, NY
He is survived by his wife Mirella Crane – Rainato; mother Marion Rainato; sister Sharon Rainato; niece Katerina Rainato; brother Christopher Rainato and wife Joanna; brother Jeremy Rainato; step children Camillo Mingone, Maria Mingone, and Anna Crane; step grandchildren Madison Torres, and Blake Vaughne; niece Katerina Rainato; his dog Happy; and many aunts, uncles and cousins.
Scott was predeceased by his father Roger Rainato.
Visitation will be held on Thursday December 6, 2018 from 5-8 pm at T.S. Purta Funeral Home 22 Glenmere Ave., Florida, NY.
A memorial service will be held 10 am on Saturday December 8, 2018 at the funeral home with burial of his ashes to follow at Florida Cemetery.
In lieu of flowers memorial contributions may be made to the family at www.gofundme/the-scott-project or directly to Mirella.