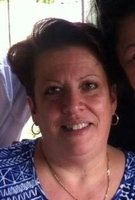 Jeanine M. Paz
Jeanine M. Paz of Jacksonville, FL, formerly of Florida, NY, formerly employed at Zircar in Florida, NY, entered into rest on Friday, November 23, 2018. She was 53.
The daughter of Joseph Louis Paz & Teresita Droz Paz, she was born on October 17, 1965 in Bronx, NY.
She is survived by her parents, Joseph & Teresita Paz; 2 brothers, Joseph Paz (Donna) & Jeffrey Paz (Diane); 3 nieces, Elizabeth, Ariel & Rachael; 2 nephews, Joshua & Jason.
A memorial mass will be held 10AM Monday, December 10th at St. Joseph Church, 20 Glenmere Avenue, Florida, NY 10921.
Inurnment will be in Warwick Cemetery.
Memorial contributions may be made to Community Hospice & Palliative Care, 4266 Sunbeam Road, Jacksonville, FL 32257.