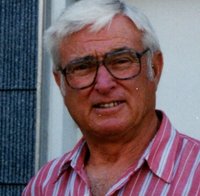 Charles A. Faliski Jr.
Charles A. Faliski Jr. passed away peacefully on Saturday, December 29, 2018 at Orange Regional Medical Center in the Town of Wallkill, NY. He was 90.
Son of the late Charles A. Faliski Sr. and the late Edith Green Faliski, he was born in Brooklyn, NY and moved to Florida as a young boy. Charles was a retired NYS DOT motor vehicle inspector for the State of New York. He also worked as an auto mechanic and enjoyed repairing engines of all types. He was an avid sportsman and loved the great outdoors. He was a member of the Wawarsing Rod & Gun Club, Amateur Trap Shooting Association, Florida Fire Department, Mountaineer Hunting Club and Mt. Eve Gun Club.
He is survived by his loving wife, Eleanor of 62 years; their children, Charles III and his wife Betty Jean of Pennsylvania; Vivian of Middletown, NY; and Paul and his wife Doreen of Florida, NY; three granddaughters, Sarah and her husband Michael Stachnik, Katelyn and her fiancée William Stella and Allison; cousin Patty Lynn Faliski Conard and her husband Dr. Frederick Conard; sister-in-law, Jean Faliski of Port St. Joe, Florida; brother-in-law, Sylvester "Tony" Nowak of Colorado Springs, CO; and several nieces, nephews and great nieces and nephews.
Charles was predeceased by his brother Robert of Port St. Joe, Florida.
Visitation will be held on Tuesday, January 1, 2019 from 3-7pm at T.S. Purta Funeral Home, 22 Glenmere Avenue, Florida, NY 10921. Firematic services will be held 6:30PM.
Funeral Mass will be held 11am Wednesday, January 2nd at St. Joseph Church, 20 Glenmere Avenue, Florida, NY 10921. Cremation will follow privately.
In lieu of flowers, memorial contributions may be made to St. Joseph Church Restoration Fund, 14 Glenmere Avenue, Florida, NY 10921 or to the Florida Fire Department, PO Box 600, Florida, NY 10921.