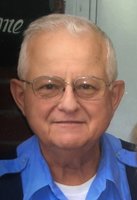 Robert Paul ""Bob"" Matuszewski
Robert "Bob" Paul Matuszewski Sr. of Goshen, NY entered into rest on Sunday May 19, 2019 with his family by his side at the Valley View after an 11 year battle with the Alzheimer's Disease. He was 80 years old.
The son of the late Edward and Antoinette Sanok Matuszewski he was born on June 2, 1938 in Warwick, NY.
Bob was a retired Shortline Bus driver and after retirement was asked to drive for the Goshen school bus system because of his impeccable driving record while working for Shortline. He also worked at the family business Quaker Creek Store.
Bob was also a US Army Veteran.
He was a member of St. Joseph's Holy Name Society, Goshen Knights of Columbus, PLAV Post 16 Pine Island, TWU of America Local 225 Board of Directors, and Excelsior Sportsman's Club.
He is survived by his wife of 57 years Barbara Sobkowiak Matuszewski, his son Robert Matuszewski Jr. (Diane) and their children Jessica Verblaauw (Craig) and their son Mason, Robert Matuszewski III (Paige), and Matthew Matuszewski (Emma), daughter Jacqueline Matuszewski (John Smith), daughter Vivian Matuszewski (Ed), son John Matuszewski (Candy) and their children Amber Matuszewski (Dylan), Kristen Matuszewski and Jaycee Matuszewski; sister Dorothy Myers (Frank) brother Fred Matuszewski (Linda), sister Adele Hicks (Bob); and several nieces and nephews.
He was predeceased his son Stanley Edward Matuszewski.
The family would like to thank the compassionate staff at Valley View especially the Angels on Grand Ave. who took care of Bob for 5 years, John Sanok and lucky lottery winner Ed Noger Jr.
Visitation will be held on Tuesday May 21, 2019 from 2-4 and 7-9 PM with Legion services held 7:30PM and Wednesday May 22 from 9am – 10:30am at T.S. Purta Funeral Home 22 Glenmere Ave. Florida, NY.
A funeral mass will be held 11 am on Wednesday May 22, 2019 at St. Joseph's Church 22 Glenmere Ave. Florida, NY.
Burial will be held in St. Joseph's Cemetery.
Memorial contributions may be made to St. Joseph's Church or St. Stanislaus Church 14 Glenmere Ave. Florida, NY 10921 or St. Jude Children's Research Hospital 501 St. Jude Place Memphis, TN 38105 – 1905.