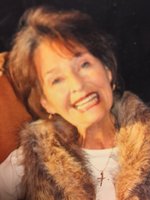 Sophia Bayno
Sophia Bayno ,83, of Goshen, died on April 1, 2020. She was born in Shortsville, New York to Bill and Mary Stambach. She graduated from Red Jacket High School and then
from Ithaca College of Music. Sophia pursued a career in theater in New York City and worked as a "gaslight girl" at the famous "Gaslight Club". In 1959, she married Joseph Bayno and they raised Mary, Billy, Julie, and Katie. Sophia devoted her abundant energy to teaching music at Burke Catholic HS and St. John's, incorporating her deep faith into her lessons. Her annual musical productions were highlights in Orange County and in the lives of thousands of students over 55 years as she shared her talents as a performer, producer, and musical director for numerous productions. She served as an organist and choir director for Saint John's in Goshen, St. Columba's in Chester and St. Stephen's in Warwick and, for many years, Sophia devoted Wednesdays to teaching music at the Nora Cronin Presentation Academy for Girls in Newburgh, very proud of their 99% graduation rate. She used her gift of music to inspire others, often reminding them that "all good gifts come from God." As a person of deep faith, she visited Medjugorge in Croatia 26 times, as well as many other shrines devoted to the Blessed Mother. She was His good and faithful servant.
Her children cannot describe the pain of losing their "star", but know that her light and love will remain eternal.
Sophia is survived by her children: Mary Bayno ( Hal)Ginsburg, Julie (Rich) Hoppe, Billy Bayno and Katie Bayno Yee; grandchildren Claire ( Noe)Castillo, Jaime Bayno and Blaise Bayno , great-grandson Esvin Castillo and her beloved siblings, Margaret Hanville, Liz Mitchell, Mary Lawrence, and Paul Stambach. Sophia was the favorite aunt to many nieces and nephews. She joins brothers Robert, John, and Chris Stambach and her dear sister Ellen Winchell.
Mass of Christian Burial will be held 10AM Saturday, July 10th at St. Joseph Church, 20 Glenmere Avenue, Florida, NY 10921. To view the funeral mass live, please CLICK HERE . Burial of cremains will follow in St. John's Cemetery, Goshen, NY.
Contributions can be made to Nora Cronin Presentation Academy Middle School for Girls (69 Bay View Terrace, Newburgh, NY 12550).