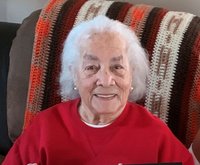 Helen Elizabeth ""Betty"" Peterson
On May 1, 2020 Helen Elizabeth Peterson aka "Betty" passed away at the age of 93.
Helen was born on July 28, 1926 to Vivan DeGroat and Minnie (Morgan) DeGroat in Hillburn, NY.
On July 4, 1945, Helen married the love of her life, William Raymond Peterson until he passed on February 29, 2004. She was the matriarch of Brook Presbyterian Church and in the Village of Hillburn. Helen was loved by all. She was a very special person who gave her time, wisdom and would volunteer, bake and cook for anything that was asked of her. Helen's nickname was Betty and affectionally called Mommy, Bami, Grandma, Grammy and Aunt Betty. She is predeceased by brothers, Vivan Jr., Wallace, Ronald, Carlton DeGroat and sisters, Dorothy Robinson, Roberta Kyles and Elaine LaForte.
She is survived by sisters, Joan Davis, Eileen Caldwell, Marilyn Royster and Kathy Davis. Helen and William leave behind Wilhemina Boyd, David, Amy, Martin and Tony Peterson; daughter-in-law, Carla Peterson; grandchildren, Eric Cunningham, Kwan Bowser, Anthony Gray, Paiden Palmer, Jennifer Peltier, Heather, Hillary and Ian Fountain, Jazmine Torres, Santana and Juliana Peterson, Beatrice Peterson and 35 great and great great grands, nieces, nephews, cousins, brother in laws, her loving neighbors in the Hillburn community and countless friends. May she rest in the sweetest of peace.