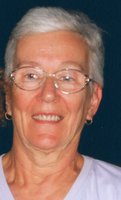 Linda Ann Wilson
Linda Ann Wilson, 73 of Middetown, NY, passed away on January 29, 2021 after a brief illness.
Born in Warwick, NY on May 9, 1947, she was the eldest of the late George M. & Genevieve Marczys VanStrander.
She attended Warwick Schools, graduated from Burke Catholic High School and attended Gwynedd Mercy College in PA.
Throughout her life, Linda was very passionate about the cats and dogs she was a parent to, especially her little Yorkies.
She also always looked forward to spending summer vacations at Long Beach Island with family and friends.
Linda was married to James E. Wilson for 53 years.
She is survived by her husband James, two sisters, Nancy Jacobsen & husband Donald of Warwick, NY and Jean VanStrander of New Hartford, NY. She is also survived by her nephew, Jeffrey G. Jacobsen and her niece, Justine E. Jacobsen, whom she loved with all her heart.
Following a private service, Linda will be laid to rest in St. Stanislaus Cemetery, Pine Island, NY.
Memorial donations may be made to the Warwick Valley Humane Society, PO Box 61, Warwick, NY 10990.