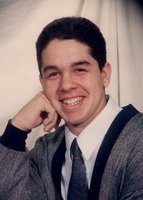 Jose A. ""Tony"" Lozano
Jose A. "Tony" Lozano of Florida, NY entered into rest on April 4, 2021, he was 41.
The son of Ismael Lozano and Karen VanStrander he was born on November 2, 1979 in Goshen, NY.
He especially loved the Patriots and Rangers.
He is survived by his mother Karen VanStrander; father Ismael Lozano; his 3 children Zane Lozano, Reese Lozano and Ash Lozano; his brother Brian Coddington & fiancée Carolyn; sister Amanda Harrer & fiancée John; nephew, John Coddington; niece, Karley Cooper; as well as numerous friends and family.
He was predeceased by his fiancée Rachael Bonnema; aunt Brenda Raines and infant sister, Kelley Coddington.
Visitation will be held on Saturday April 10, 2021 from 9am – 11am at T.S. Purta Funeral Home 690 Co. Rt. 1, Pine Island, NY, a funeral service will be held at 11 am at the funeral home.
Burial will be held in St. Peter Cemetery.
Due to COVID 19 restrictions and guidelines set forth from the state face coverings are required and the number of visitors allowed in the funeral home are limited so we ask that those that may have to wait to enter please follow social distancing guidelines.