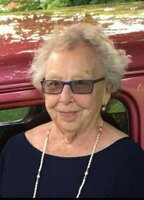 Gloria B. Schlagel
Gloria Ball Schlagel of Warwick, NY, entered into rest on Wednesday, September 8, 2021. She was 96.
The daughter of the late James Ball & Gertrude Pfaendler Ball, she was born on October 22, 1924 in Warwick, NY.
Gloria graduated from SUNY Delhi with a nursing degree and raised her four children while following her husband throughout his military service for 24 years. They settled back in Edenville in 1966 on the family farm.
She and Walt worked for the Warwick Valley Central Schools as bus drivers until dad retired. Gloria continued to work for the Warwick Dial-A-Bus until she retired at age 77.
Gloria was a member of Good Shepherd Lutheran Church and participated in many community activities. She is "Grandma Schlagel" to many and is known especially for her never empty cookie jar. She was a wonderful and loving Mom to everyone who touched her life. We shall miss her.
She is survived by her 4 children; John Schlagel of Cumming, GA; Sue Ann Schick of Warwick; Wally Schlagel & wife MaryRita of Warwick; Mary Johnston & husband Bob of Hagerstown, MD; 8 grandchildren, 14 great grandchildren; along with several nieces and nephews.
She was predeceased by husband Walter P. Schlagel; daughter-in-law, Pat Schlagel; son-in-law, John Schick; 9 siblings and 1 great grandchild.
Memorial visitation will be held on Sunday, September 12th from 2-4PM with a memorial service 4PM at T.S. Purta Funeral Home, 690 County Route# 1, Pine Island, NY 10969. Pastor Jordan Voges will officiate.
Graveside services for both Gloria and Walter will be held 11AM Monday, September 13th at Warwick Cemetery, Warwick, NY.
Due to COVID 19, the family is requesting those in attendance to please wear masks.
Memorial contributions may be made to a charity of one's choice.