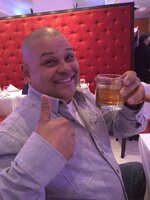 Frank Hernandez
Frank Hernandez of Florida, NY, a retired Agent for the Department of Homeland Security, entered into rest on Friday, December 24, 2021. He was 55.
The son of Jacinto Hernandez & the late Elsie Droz, he was born on July 4, 1966 in the Bronx, NY.
Frank was a US Navy Persian Gulf War Veteran.
He is survived by his wife, Jenette Leon-Hernandez; father, Jacinto Hernandez; 3 daughters, Gianna, Stephanie & Leandra; brother, Guillermo Hernandez & wife Hilda; 3 sisters, Luisa, Yuly & Anny Hernandez; along with several nieces, nephews, great nieces, great nephews and extended family.
Visitation will be held on Wednesday, December 29th from 4-7pm at T.S. Purta Funeral Home, 22 Glenmere Avenue, Florida, NY 10921.
A funeral mass will be held 10AM Thursday, December 30th at St. Joseph Church, 20 Glenmere Avenue, Florida, NY 10921.
Burial will be held in Orange County Veteran's Memorial Cemetery, Goshen, NY.
Due to COVID 19, the funeral home and church are currently following the NY State mandate regarding the use of masks.
Memorial contributions may be made to the Alzheimer's Association.