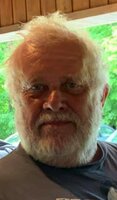 Edward J. Szmidt
Edward J. Szmidt of Pine Island, NY, entered into rest on Saturday, April 2, 2022. He was 71.
The son of the late Matthew Szmidt & Doris Fullington Szmidt, he was born on November 10, 1950 in Goshen, NY.
He was an honorary member of the Amity Fire Company.
Dad was an avid outdoorsman where he enjoyed hunting, fishing, and gardening. He was also well known for his wood carvings.
He is survived by his wife of 50 years, Elaine Jackson Szmidt at home; son, James Szmidt (Jennifer) of Wurtsboro, NY; daughter, Debbie Sue Leon of Wurtsboro, NY; 2 sisters, Carol Ann Chaney of Ocala, FL and Kathy Thorne of Augusta, WV; several grandchildren, great grandchildren, aunts, nieces, nephews, cousins and "honorary family members" Turk and Sue Myslinski.
Visitation will be held on Tuesday, April 5th from 2-4 & 7-9PM at T.S. Purta Funeral Home, 690 County Route# 1, Pine Island, NY 10969.
A private cremation will follow the visitation.
In lieu of flowers, memorial contributions may be made to a charity of one's choice.