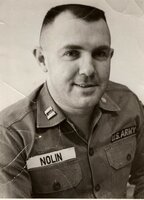 LTC (Ret) Army Edmond Robert Nolin
LTC (Ret) Army Edmond Robert Nolin "Bob" of Warwick, NY, entered into rest on Saturday, April 2, 2022 at home, surrounded by his loving family. He was 93.
The son of the late Charles and Mary McGuinnis Nolin, he was born on July 9, 1928 in Saylesville, Rhode Island.
Dad retired as a Lieutenant Colonel in the US Army serving during both the Korean and Vietnam Wars. After he retired from military service, he worked as Head of Facilities for the Rockland County Schools in Stony Point, NY. He was also a faithful and devoted member of St. Joseph Church, Florida, NY.
He is survived by his son, Timothy Nolin (Cynthia) of Fort Wayne, IN; son, Robert Nolin (Lisa) of Staten Island, NY; daughter, Michele Carini (Peter) of Medford, OR; son, Thomas Nolin of Medford, OR; 5 granddaughters, Lauren Nolin Lioon (Douglas); Caitlin Carini (Jackson Mejia); Gabrielle Carini (Jeff Narva); Mara Carini and Paige Bordner; grandson, Corbyn Bordner; 2 great granddaughters, Liana & Lila Rose Lioon; he is further survived by numerous nieces, nephews, great nieces and great nephews.
He was predeceased by his loving wife of 56 years, Kathleen Potter Nolin; 2 brothers, Charles and Norman Nolin; 5 sisters, Louise Nolin Smith, Mary, Genevieve and Marion Nolin; and Nancy Nolin Jacques.
As per his wishes, cremation will be held privately and a burial of his cremains will be held in the future his family plot in Mt. Calvary Cemetery, Cumberland Rhode Island.
Memorial contributions may be made to St. Francis Friends of the Poor, 155 West 22nd St., New York, NY 10011.