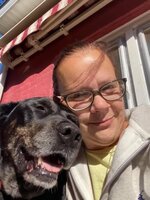 Amie-Beth Morran
Amie-Beth Morran of Florida, NY, a retired CNA for Valley View, Goshen, NY, entered into rest on Saturday, October 29, 2022. She was 45.
The daughter of Jeffery Hunt and Beth-Ellan Burch, she was born on November 11, 1976 in Goshen, NY.
She is survived by her husband, Thomas Morran; daughter, Cora-Beth Morran; son, Brenan-Thomas Morran all of Florida, NY; mother, Beth-Ellan Burch of North Carolina; father, Jeffery Hunt and wife Mary of Florida, NY; half-sister, Laura-Jeanne Burch of North Carolina; niece, Shiloh Loveless of Tennessee; along with several aunts, uncles and cousins.
As per her wishes, cremation and memorial services will be held privately at the convenience of the family.
Memorial contributions can be made to the Humane Society of Walden, 2489 Albany Post Road, Walden, NY 12586.